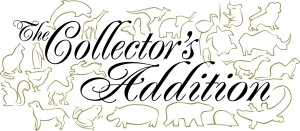 Thank you for your interest in ordering this item/these items! We Ship Worldwide!

Rest easy knowing we only charge EXACT USPS charges for shipping - No bogus handling fees.
If you are International you are welcome to email us for a shipping quote.
FREE SHIPPING (in USA) for orders $150.00+. Must enter PROMO Code: FREESHIP150 at checkout.
Note: FREESHIP150 is not available on sale items. Purchases must be $150.00+ of Regular Priced items.
If mailing a payment, please pay for your items within 3 days of receiving your invoice.
Copyright © The Collector's Addition 2000-2018, all rights both domestic and international are reserved. The entire contents of this website – www.collectorsaddition.com (including but not limited to text, graphics, photos, and source codes) are copyrighted as a collected work under the United States Copyright Act. Copying, transmitting, or reproduction is not allowed without the express written consent of The Collector's Addition.